Yokohama City, Kanagawa Prefecture

●1964 Pollution Control "Yokohama Method"
Yokohama City established the "Yokohama Method", which forced J-Power to conduct on-spot inspection and disclosure of information when constructing Isogo Thermal Power Plant. This pollution policy is famous for having been more progressive than the national one.
●2020~ Yokohama G30 Plan
The City set a goal to reduce the total amount of garbage from the city by 30% by 2010 below the 2001 level, which was achieved five years ahead of schedule in 2005. This case is known as the achievement brought by active civic movements of those days.

●2007 Hama Wing (Yokohama City Wind Turbine)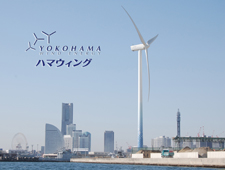 Hama Wing (1980kW)
(Source: Yokohama City)
●2007 CODO30 (Carbon Off 30% Yokohama Global Warming Countermeasure Action Program)
CODO30 has seven action targets by category: community, business, building, transportation, energy, city green development, and council. Yokohama City aims to create its own distinctive series of action against global warming under public-private initiative as code, to settle the code in the city as global warming countermeasure, and ultimately to shift the code into the culture of Yokohama as mode.
●2008 Climate Change Policy Headquarter
The City established the Climate Change Policy Headquarter to forcefully advance its climate control through public-private partnership. Accordingly, the city authority will carry out greenhouse gas emissions-reduction policy across all departments and also conduct its progress management appropriately. This organization reform intends to overcome the negative effect of the vertical administration structure as a conventional Japanese governmental problem.


●2008~ Eco Model City
Yokohama City aims to realize the zero-carbon urban lifestyle by promoting knowledge sharing, green purchasing and innovative action under the civil initiative.
Project Scheme (as of July 2008)
・Creation of Yokohama Zero Carbon Lifestyle ~40% CO2 emissions reduction from households
・Zero Emission Transportation Strategy
・Renewable Energy J Curve Strategy
・Climate Change Areal Cooperation Model


Carbon Dioxide Emissions (CO2)
30% reduction by 2025 (base year 2004)
Over 60% reduction by 2050 (base year 2004) (CODO30)
Renewable Energy
Over 10-fold larger usage than current status (CODO30)